Our offices are available to communicate through text messaging during our normal business hours from 8:00am – 5:00pm Monday through Friday.
Comfortable, Compassionate Care for All
Welcome to Northeast Foot and Ankle
We practice patient-focused care and encourage you to learn more about our offices in both Portsmouth and Nashua, as well as our physicians who practice at each. Learn about our Portsmouth or Nashua office.
Our website provides a wealth of information on our practice and the conditions we treat. If you have additional questions, we invite you to contact us at any time.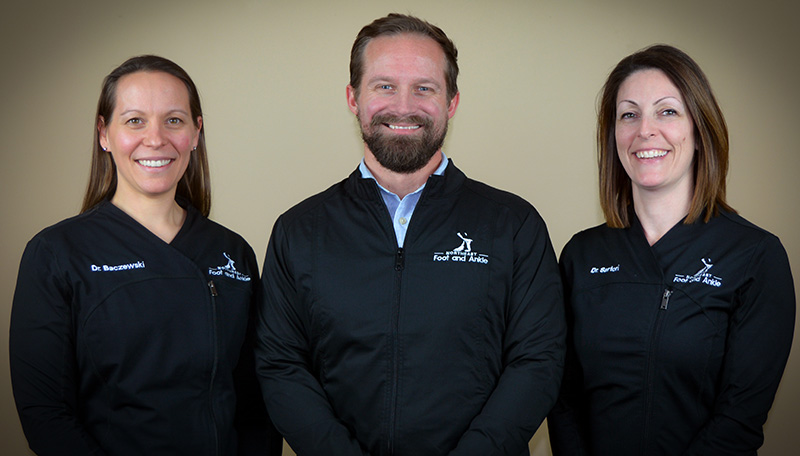 Superior Service
When you have foot and ankle problems, you deserve a podiatrist who not only listens to your concerns, but also has the experience to fully address them. Superior service means having a friendly, helpful physician who takes the time to determine the best treatments and advice to improve your health. Our staff is fully trained and dedicated toward providing individualized care.
Educated & Informed Patients
A patient should never be asked to make a decision on their health and well-being without complete information. This is why our physicians focus on patient-centered care and shared decision-making. We collaborate with you to determine the best course of treatment for you, as we believe that each patient deserves a focused treatment regime. We won't let you walk out the door feeling unsure about your diagnosis or treatment. An educated patient is a happy, healthier patient!
Stress Free, Accessible Setting
Superb care must be accessible to have any real effect for people. Our offices and welcoming staff are ready and dedicated toward providing care for all. Learn more about our two locations serving much of New Hampshire including Rye and North Hampton, our hours, accepted insurance programs, and how to schedule an appointment. You can even fill out our online appointment request form whenever you wish—including after close!
Request an Appointment Today
Contact one of our offices in Portsmouth or Nashua to take the first steps toward relief and comfort today!
Portsmouth
14 Manchester Square Ste 250
Portsmouth, NH 03801
Phone: 603-431-6070
Fax: 603-766-0612
Hours of Operation
Mon  8:30am – 5:00pm
Tue  8:00am – 5:00pm
Wed  8:00am – 5:00pm
Thu  8:00am – 5:00pm
Fri  8:00am – 5:00pm
Nashua
17 Riverside Street Ste 205
Nashua, NH 03062
Phone: 603-882-8866
Fax: 603-882-8968
Hours of Operation
Mon  8:30am – 5:00pm
Tue  8:00am – 5:00pm
Wed  8:00am – 5:00pm
Thu  8:00am – 5:00pm
Fri  8:00am – 5:00pm