Podiatrists in Portsmouth, NH
Portsmouth, NH's leading Podiatrists
If you live in the Portsmouth area — or even just across the border in southeastern Maine—you don't have to go far to enjoy the highest standards of foot and ankle care. Northeast Foot and Ankle has the leading Podiatrists in Portsmouth NH.
The the team at Northeast Foot & Ankle in Portsmouth, NH is here to serve you with personalized attention and advanced modes of treatment when necessary. And we do it all with a friendly and welcoming staff, superior service, and a stress-free environment.
Location & Contact
Our Seacoast office is conveniently located near the Portsmouth International Airport at Pease, with easy access from either I-95 (Exit 3) or the Spaulding Turnpike (Exit 1). Wherever you live in or around Portsmouth, we're just a short drive away.
14 Manchester Square STE 250
Portsmouth, NH 03801
Phone: 603-431-6070
Fax: 603-766-0612
Driving Directions
Hours of Operation
Mon  8:30am – 5:00pm
Tue  8:00am – 5:00pm
Wed  8:00am – 5:00pm
Thu  8:00am – 5:00pm
Fri  8:00am – 5:00pm
We occasionally close for staff meetings and lunch between 12-2pm, so please call ahead before making an unscheduled visit during this time.
Our Portsmouth Office Facility & Staff
Our Portsmouth podiatry office is fully equipped with many state-of-the-art treatment options and diagnostic tools. But that doesn't mean you have to sacrifice comfort! You'll also find our welcoming staff and a comfortable, casual environment to put you at ease.
Some of the on-site features and conveniences we offer include:
Digital X-ray and ultrasound imaging
Platelet-rich plasma (PRP) therapy
Minor surgeries
Fully electronic insurance claim submission for patient convenience
For more complicated surgical procedures, we also maintain surgical privileges at the nearby Portsmouth Regional Hospital and the Portsmouth Regional Ambulatory Surgical Center.
Doctors who practice at our Portsmouth office are Dr. Jennifer Sartori, Dr. Natasha Baczewski, and Dr. Allen Clark.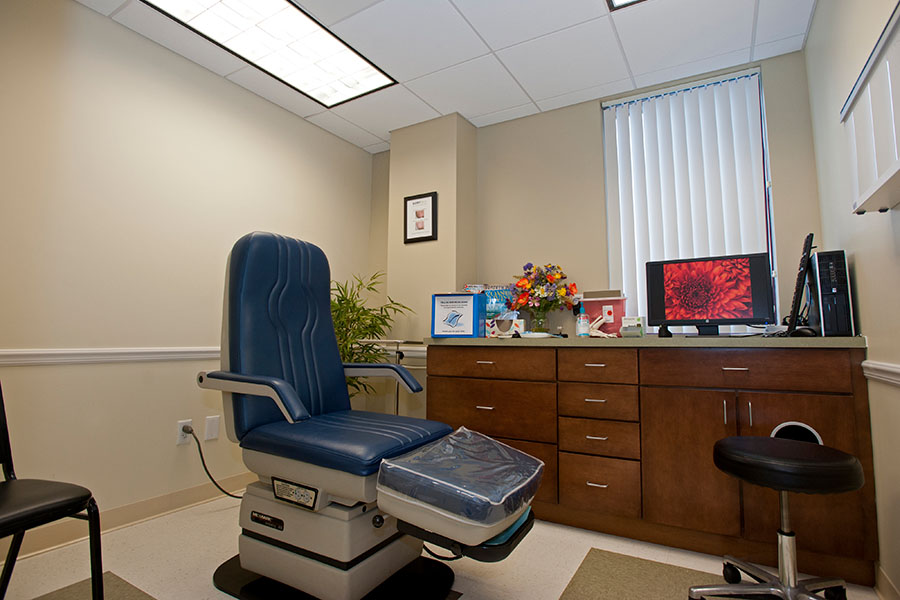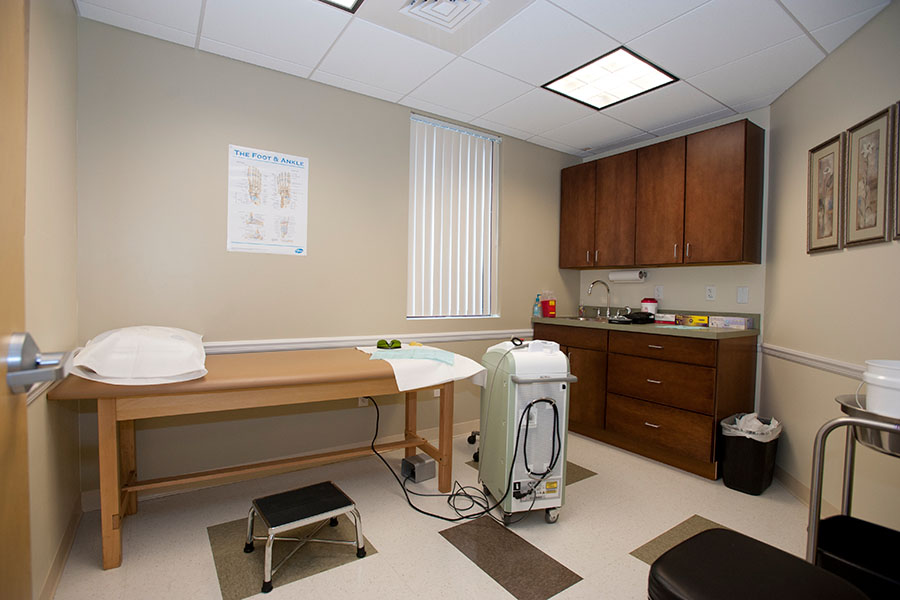 We Offer Fair, Affordable, and Transparent Pricing
Nobody likes being surprised by hidden costs. We hate them as much as you do—and we also have a strong belief that high quality medical care should be affordable and accessible for all. We accept a wide variety of insurance plans and payment options (see below), and we also maintain a convenient pricing page with "base" out-of-pocket costs for many popular services and products.
For the most up-to-date and accurate pricing information that takes your insurance coverage into account, please call us and ask. We'll be happy to help you.
Accepted insurance carriers:
Anthem BC/BS
Cigna
Tricare 
United Healthcare
Aetna
Medicare
Martins Point
Payment Options
Cash
Check
Credit/Debit (Mastercard, Visa, Discover)
Appointment Scheduling
We work hard to make sure your appointment is scheduled promptly after you call us or reach out to us online. We provide same-day appointments for those in need of emergency care, and often have same-day or next-day appointments available for those without an urgent need.
Once your appointment is booked, you can save yourself a lot of time and stress at check-in by reviewing our new patient information and completing and submitting your office forms online ahead of time. Parents and legal guardians scheduling for their minor children will also need to complete a consent form if they will not be present for the appointment.
We understand that things sometimes come up and you may have to reschedule an appointment. If for any reason you can't make it, please let us know as soon as possible. You may be charged if cancellation notice is provided less than 24 hours prior to your appointment.