On September 16th, over 500 runners and walkers—of ages ranging from 2-86—had registered for the 10th Annual Celebrate Pink 5K Run & Walk in downtown Portsmouth, and we are proud to have been one of the event's sponsors.
(Don't worry, the 2-year-olds were being pushed in strollers!)
This amazing event is held every year to help support My Breast Cancer Support, which is a non-profit organization dedicated to providing support—both financial and emotional—for breast cancer patients (and their families) from across our Greater Seacoast community.
As is typically the case, a majority of participants were sporting pink for the run/walk—and some people went all out and took their costumes to the next level (perhaps in hopes of winning prizes for the best individual or team costumers). It was incredible to (literally) see the support from across our region for those who are currently fighting or have survived breast cancer. Additionally, their family members surely felt the love and support as well.
Now, if you participated in the event—either as a runner or walker—you know the course started and ended at Portsmouth Middle School. And if you run 5K's on a regular basis, you might have found that your time was a hair faster than usual. This is because the Celebrate Pink is actually just shy of being a "true" 5K (which explains why the course isn't technically certified).
Of course, the most important aspect of this event has less to do with the actual running itself and more about raising money for My Breast Cancer Support and awareness for the type of cancer that affects so many women (and even some men!).
That being said, the simple fact is this—there was a lot of running happening on the 16th!
And if you had participated in the event—no matter if you were running or walking—and are still experiencing some foot, heel, or ankle pain, then it's time to come and see us for professional diagnosis and a customized treatment plan.
Running (and Walking) Injuries
Walking and running are both fantastic forms of exercise. They provide a truly remarkable number of benefits—physical, emotional, and mental.
At the same time, any form of exercise—including these two—is bound to carry a certain degree of injury risk with it.
Sure, there are actions you can take to lower the risk, but it's virtually impossible to remove all of it.
When it comes to foot and ankle injuries you can potentially sustain from running—and, to a lesser extent, walking—some of the more common ones include:
Plantar Fasciitis
Plantar fasciitis is the most common source of heel pain for adults. The primary symptom for this condition is a sharp pain that is triggered with the first steps following an extended period of inactivity or rest, especially in the morning after a night's sleep. Unfortunately, running is one way to trigger this particular injury.
The plantar fascia is a thick band of tissue that runs along the bottom of your foot and supports the arch. When faced with excessive stretching, the fascia develops small tears. Continuing to run on injured tissue further exacerbates the situation.
The sharp pain experienced after rest is actually a symptom known as post-static dyskinesia. What this means is the body spends time repairing itself during periods of rest, but when activity is resumed—like when you take those first steps of the day—the tears in the fascia are reopened. The pain is the body's way of indicating that something is wrong.
Ankle Sprains
The ankle is supported by tough bands of tissues known as ligaments that are responsible for stabilizing joints and establishing a normal range of motion. When ligaments are forced beyond their limits, like when an ankle rolls during a run, they become stretched and may tear. In severe cases, a ligament can become completely torn during an ankle sprain.
Achilles Tendinitis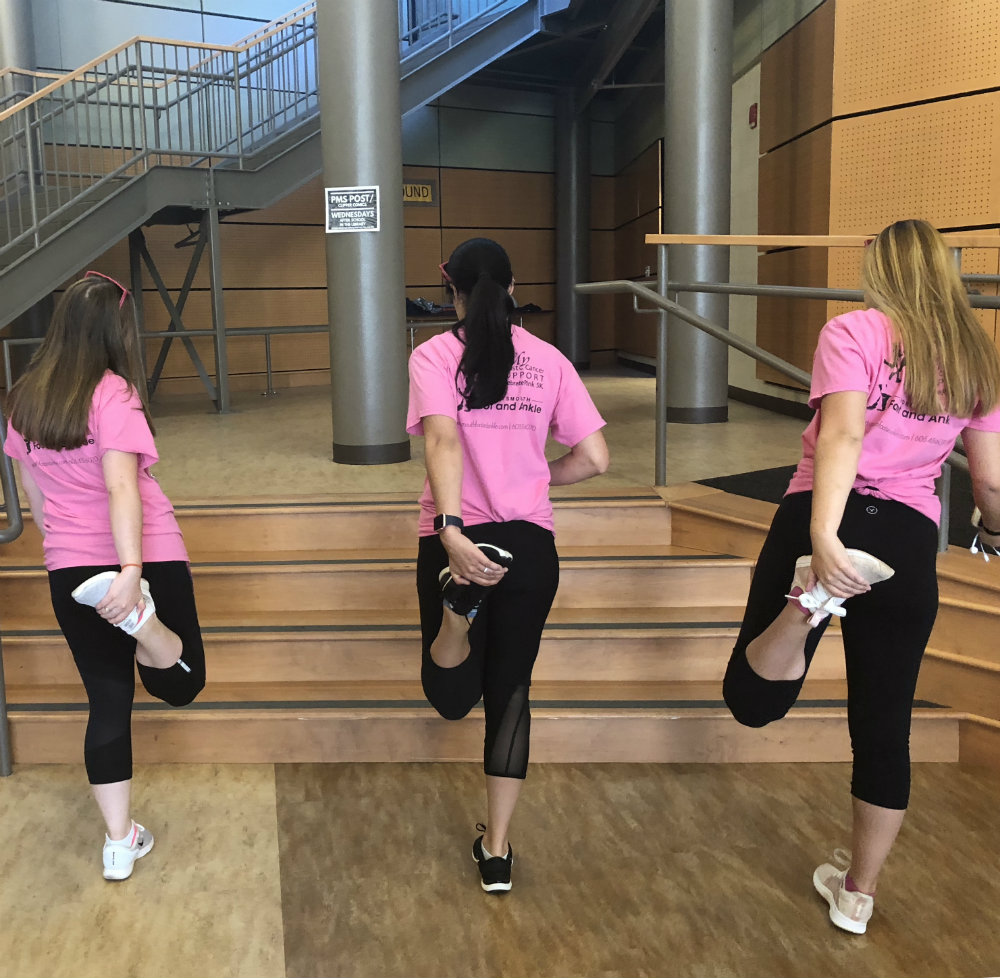 Much like stress fractures and plantar fasciitis, Achilles tendinitis is a fairly common injury. This form of tendonitis is caused by either repetitive action (overuse) or a sudden increase in duration or intensity of physical action. It is particularly common for "weekend warriors" – middle-aged individuals who play sports on the weekends, but lead otherwise sedentary lives.
When it comes to running, Achilles tendinitis is most likely to occur when a runner decides to ramp up his or her workouts without taking gradual steps to reach the new level of intensity or duration.
"Other" Tendonitis
The Achilles might be the most well-known tendon, but there are several other ones in your feet and ankles that can also develop tendonitis. These include the extensor, peroneal, and posterior tibial tendons. Other forms of tendonitis in the lower limbs are also caused by overuse and often effectively treated conservatively.
Stress Fractures
When people think about broken bones, many are quick to think about an x-ray that shows a clean break in a bone. Obviously, these types of breaks happen, but when it comes to running injuries, we are more likely to find stress fractures than any other kind of break.
Stress fractures are different from a "normal" fracture in the fact that they are not caused by a single traumatic incident. Rather, these hairline cracks are caused by an accumulation of forces and overuse that doesn't allow the body to regenerate old cells in the bone tissue.
Conservative care is often the best treatment for these fractures, with rest, ice, compression, elevation, and nonsteroidal anti-inflammatory drugs (NSAIDs) being particularly effective.
Get the Help You Need for Foot and Ankles Sports Injuries
Our hope at Northeast Foot and Ankle is that you are always able to stay safe as you participate in favorite activities.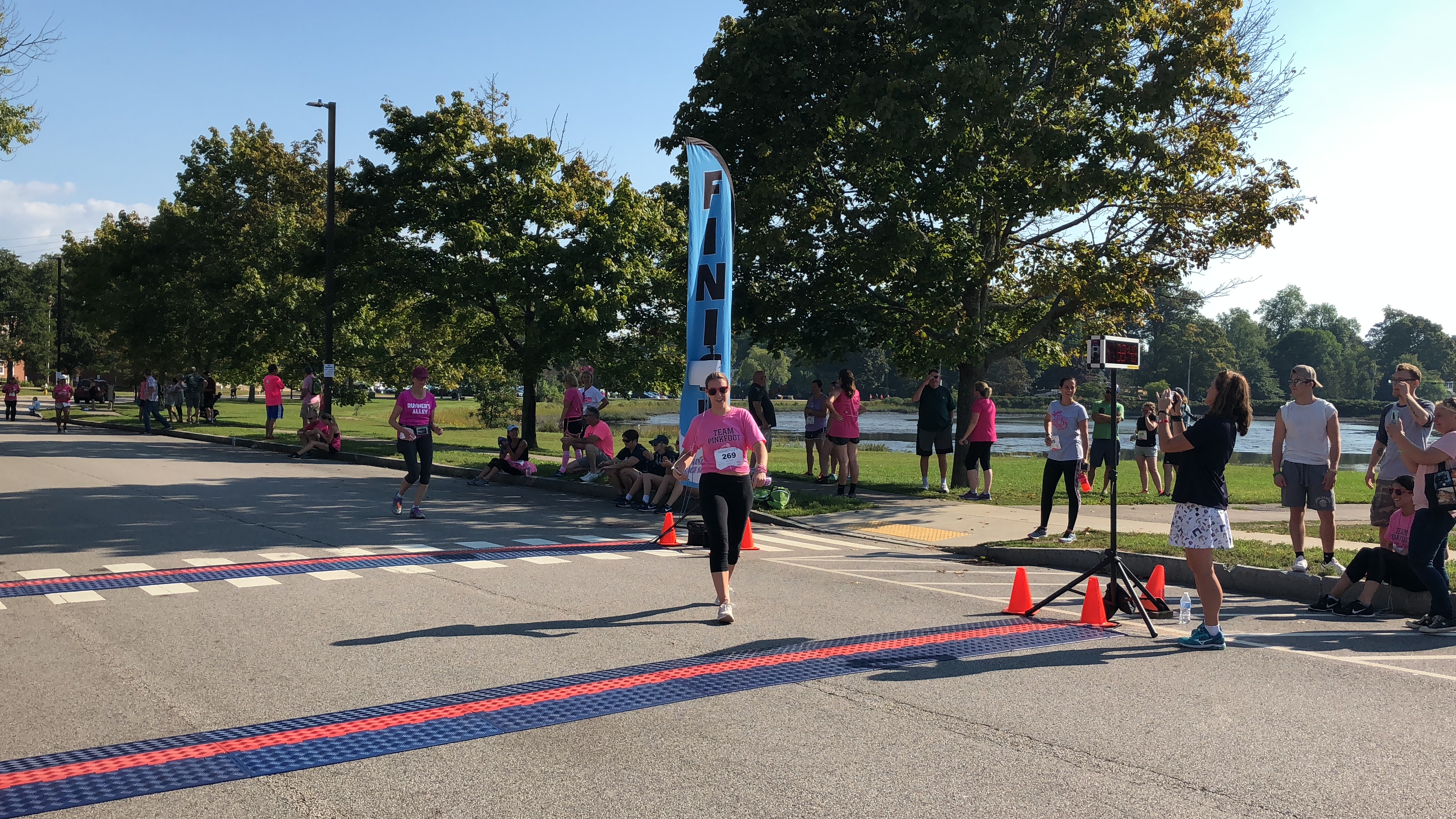 At the same time, we know that lower limb issues can (and do!) develop sometimes. It doesn't matter which physical activities you prefer—or even if you're supporting a great cause by participating in something like the Celebrate Pink 5K—if you use your feet and ankles, injury is possible.
There are measures you can take to lessen your risk, but the simple fact is this:
You cannot completely eliminate injury risk.
A human body in motion can get hurt. That might seem like a sad fact, but there is good news—our team can help you overcome your foot or ankle injury and get you back to your favorite activities in the shortest possible amount of time (when you follow your treatment plan!).
You can read more about sports injuries and our treatment options on this webpage.
If you have any questions—or you need to request an appointment at either our Portsmouth or Nashua offices—simply give us a call at (603) 431-6070. We'll be happy to provide any answers or assist however we can!