Keep Your Feet Cool and Pain Free This Summer
The weather is finally getting warmer and the days are getting longer. Summer is just around the corner, and with it comes fun times at the lake, relaxing vacations at the beach, and adventurous hiking quests. Whatever you are planning on doing this summer, there are plenty of opportunities to show off your feet – AND get them injured.
In fact, during this time of year, there is a dramatic increase in foot and ankle problems seen at our New Hampshire offices. And this comes as no surprise since it is during warmer seasons that we often feel more revived by the sunshine, more willing to go on those morning jogs, more eager to show off our feet at the community swimming pools. All this will naturally put our feet at higher risk of trouble.
The reality is that foot and ankle problems can keep you from enjoying fun times with family and friends – maybe heel pain will keep you from going on that seashell hunt, or maybe painful blisters just won't allow you to wear your favorite pair of shoes when you go to that fiery barbecue.
So, before your feet decide to go wild on you, we are here to give you some pointers on how to properly tame them. Keep reading our blog to find out how you can keep foot and ankle injuries at bay while you go about your adventures during these fast-approaching warmer seasons.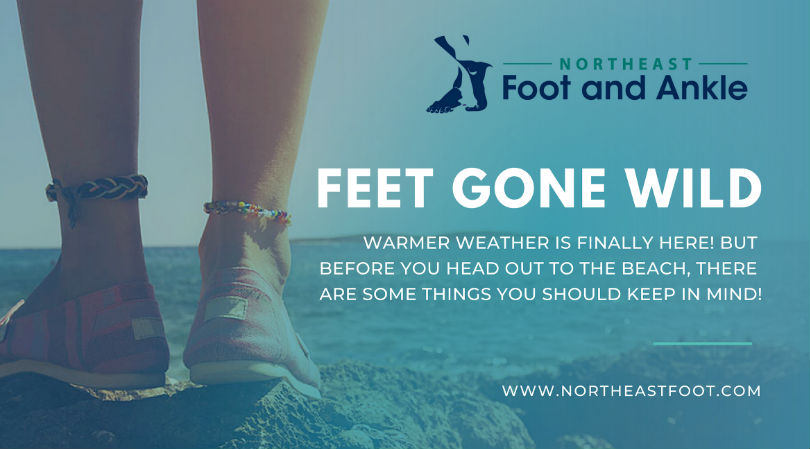 When Your Feet Go Wild
You are probably already heading out the door with beach bag in hand and flip flops on your feet.
But wait!
Before you go on your road trip or summer vacation, there are some things you should keep in mind. The following are some common foot problems that many people experience, especially during warmer seasons:
Sun exposure. It is important to keep in mind that your feet need protection even in the summer. Any exposed skin is susceptible to sunburn, and feet are often neglected when it comes to sunscreen use.
Blisters. A new pair of sandals that causes friction often results in painful blisters.
Fungal infections. Walking around barefoot exposes the feet to fungal infections from moist surfaces like swimming pools and locker rooms.
Walking barefoot also exposes the feet to foreign objects that can cause them harm, like broken glass or sharp rocks.
Heel pain. Wearing unsupportive, flimsy sandals can lead to problems like plantar fasciitis, tendinitis, and stress fractures.
Dry skin.Exposing the feet to the elements all day can take its toll, especially on the skin.
Of course, this should be no reason to discourage you from getting out there in the sun and enjoying the weather. After all, we know you have been waiting months for it to finally come back around. And the good news is that if you take some preventative measures, you won't have to deal with foot or ankle problems now or even later in the season.
Let us tell you how.
Taming Foot Problems
One of the perks of spring and summer seasons is knowing that instead of snow soaking through your favorite pair of heels or having your feet feeling way-too-toasty in your sweaty Uggs, you can lounge happily with your toes dangling in the warm weather, shoe-free and with the sand at your feet.
However, this dream does also come with its own set of troubles. Even if you are just lying still on your back soaking up the rays, your feet are still vulnerable to injuries.
And wouldn't you rather spend time doing your favorite summer activities than being at the doctor's office? Well, there are plenty of ways to prevent these foot and ankle problems so you can go back to your sun-kissed dreams and enjoy a liberated foot experience.
Here are some tips:
Avoid walking barefoot. This exposes your feet to sunburn, as well as plantar warts, athlete's foot, ringworm, and increases risk of injury to your feet. Try wearing protective water shoes – they come in many fun colors and designs.
Wear shoes or flip-flops around the pool, to the beach, in the locker room and even on the carpeting or in the bathroom of your hotel room. Doing so will prevent injuries and limit the likelihood of contracting any bacterial infections. Protective water shoes are great for these occasions as well.
Remember to apply sunscreen all over your feet. This is especially true when it comes to the tops and fronts of ankles – and don't forget to reapply after you've been in the water.
Stay hydrated by drinking plenty of water throughout the day. Drinking water will not only help with your overall health, but it will also minimize any foot swelling caused by the heat.
Keep your blood flowing. You should perform periodic ankle flexes, toe wiggles, and calf stretches after laying or sitting for long periods of time.
Some activities at the beach, lake, or river may require different types of footwear to be worn, so make sure you have appropriate footwear that provides the comfort, support, and protection you need based on the activities you will be engaging in.
And, just to be safe, it's always a good idea to pack an extra pair of sneakers or protective water shoes. If your shoes will be getting wet, they should be dried out completely before you wear them again. But whatever you do, never go barefoot – danger can easily be hiding under soft sand and water.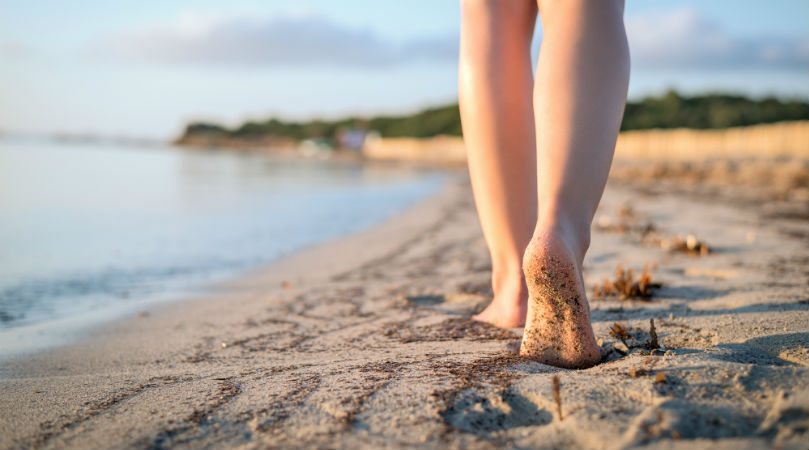 Let Us Help You Today!
Now, if you happen to injure your foot or ankle while on vacation (and we certainly hope that is not the case for you), you should immediately seek expert care from our foot and ankle doctors at Northeast Foot and Ankle.
In fact, an important way to prevent serious foot and ankle issues is to address conditions early at its first signs and symptoms. Whether you have nail fungus, experience heel pain, or injure your ankle while running on the beach, you can seek help from our team of experts here at one of our New Hampshire offices. All you have to do is contact us at (603) 431-6070 to schedule an appointment today!