What do you do if you need to see a foot doctor, but can't make it to the office? That's a question many of our patients have been asking us, especially those who are medically fragile or worried that they might catch something dangerous—and then spread it to their loved ones.
Patient safety is our number one concern. If traveling to our office just isn't safe or smart for you right now, we can offer you a telemedicine appointment instead.
Telemedicine can help keep you in touch with your podiatrist and stay on top of your foot and ankle care, even when circumstances prevent a face-to-face meeting.
How Does It Work?
You don't need any kind of sophisticated equipment or expensive gear. All you really need is a smartphone and a decent internet connection. Most of our patients already have these things anyway, or can ask a close (and healthy!) relative to help.
(A computer with a webcam and microphone will work well, too. As long as you have a device that supports visual and audio communication, you're good!)
In order to make sure we are able to communicate with you and protect your privacy, you will need to create an account with Zoom and download their app to your device. Don't worry! The process is easy, and you can call our office directly and ask for assistance if you need any. We'll be glad to talk you through it.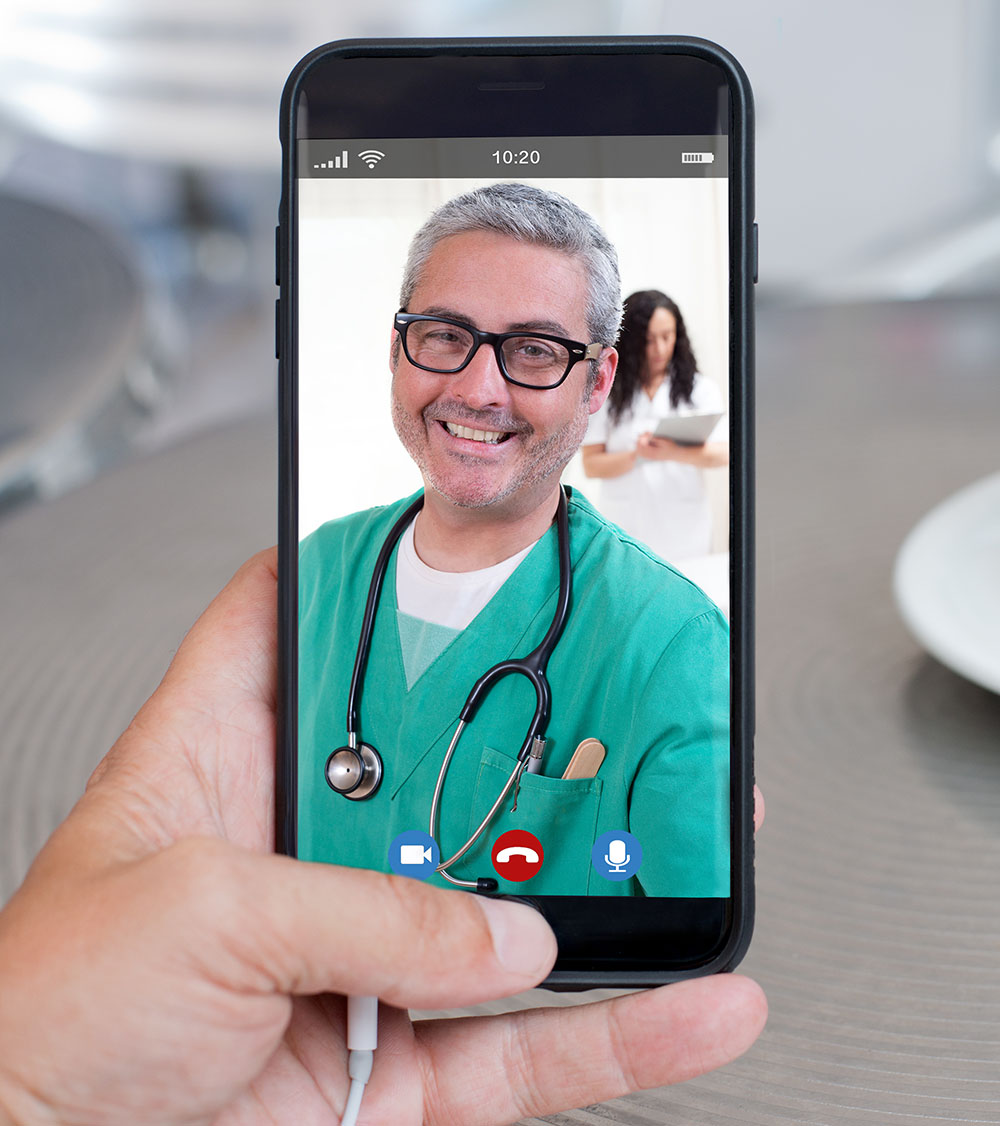 Does Telemedicine Really Work?
Yes it does!
We can accomplish a lot through just a video screen. Almost any appointment that involves a visual inspection or examination can be achieved remotely just as well as it can be in-person.
You are able to ask any questions and get an immediate response directly from your doctor, rather than rely on a Google search for your medical information. And we can provide you with treatment options—often including ones you can work on at home.
We may need to talk you through a few things, but for the most part it works great. Initial consults, follow-up check-ins, and other more diagnostically based visits can almost always be moved mostly or entirely online.
Curbside Pickup Services
During our telemedicine appointment, we may recommend treatments such as bracing, arch supports, topical creams, certain medications—in other words, things you probably don't have at home. What do you do?
You can use our curbside pickup service!
If we've prescribed or recommended any physical devices or medications that you need, simply drive up to our office and let us know you're here. We'll bring them right out to your car—no need to enter the office.
What If I Still Need to Be Seen in Person?
Of course, not all medical services can be performed remotely or via curbside pickup. Surgeries and other appointments that require direct application of a specific treatment by a professional still require an in-person office visit.
But by moving as many appointments to telemedicine and keeping as many patients out of the office as possible, we are decreasing the risk for everyone—including those who must still make an in-person visit.
Also, in the middle of any kind of public health alert (such as COVID-19), we are taking extra steps to shield our patients from unnecessary exposure:
Wait in your car instead of the waiting room.
Call us when you arrive to let us know you're here. We will call you back when your exam room is ready for you.
You'll be taken immediately to your exam room.
Facilities are cleaned thoroughly for every new patient. All surfaces are wiped down, and hand sanitizer is readily available for everyone.
All patients will be kept at least 6 feet apart while moving through the office.
As much as possible, interactions that do not require face-to-face interaction will be performed remotely.
Your Safety Always Comes First
We're not going to stop attending to the needs of our patients anytime soon, regardless of what happens in the wider world. When you need foot care, you need foot care. And you can always rely on us to provide it for you—in person or from afar.
However, we must also be innovative and proactive to keep our patients' safety at the top of the priority list despite challenging circumstances. Telemedicine services are one important way we're doing that.
If you have any questions whatsoever about telemedicine, including whether or not a remote visit would be appropriate for your situation, or simply wish to schedule an upcoming appointment, please call our office at (603) 431-6070 today or request an appointment online.